Volume One:
Christopher Columbus, Mayor Pennypacker, Man at Thanksgiving Luncheon, Chief White-Cloud, Man at Boston Tea Party, Benjamin Franklin, Paul Revere, George Washington, Time Reporter, Yankee Doodle, Hip Flute Player
Words & Music, Sound Effects on "The Midnight Ride of Paul Revere" and "The Discovery of Electricity"

Volume Two:
Benjamin Franklin, George Washington, Francis Scott Key, Stephen Foster, Man With Banjo on his Knee, Samuel Morse, Abraham Lincoln, Mr. Grinch, George Armstrong Custer, Alexander Graham Bell, Thomas Edison, Henry Ford, Officer on Lusitania, Eddie
Words & Music, Writer & Director, Sound Effects, Producer

Born August 7, 1926, Stan Freberg is one of America's best loved humorists and satirists. Today his records and CDs are treasured by Freberg fans around the world. As a young recording artist, he first burst on the scene in 1950 with his Capitol record "John And Marsha," which was an immediate world-wide success. Other hits followed like his spoof of Harry Belafonte's "Banana Boat (Day-O)," his parody of Mitch Miller's "The Yellow Rose Of Texas," Elvis' "Heartbreak Hotel," and his Dragnet spoof, "St. George And The Dragonet," which went on to become the fastest-rising hit in the history of the record business according to RIAA at that time: one million in the first three weeks.
The New York Times' Stephen Holden wrote recently: "Stan Freberg, the most sophisticated of the pop satirists, did more than parody passing fads. His records like the two-million selling hit of 1953, 'St. George And The Dragonet,' (a still-hilarious send-up of the television show Dragnet). . .were the true forerunners of the satirical style of The National Lampoon and Saturday Night Live."
His legendary Capitol CD, Stan Freberg Presents: The United States Of America, has gathered millions of fans around the world who know the album by heart, among them hundreds of U.S. history teachers who have used it as a teaching aid to try and make history less boring. Radio legend Dr. Demento has called it "The greatest comedy album in history, or the greatest history album in comedy."
Rhino released the long-awaited follow-up, Stan Freberg Presents: The United States Of America, Vol. 2: The Middle Years, on July 2, 1996. The album is also included in a two-disc set along with Stan Freberg Presents: The United States of America.
Appearing in the cast with Freberg on Vol. 2 are such guest stars as Tyne Daly, John Goodman, David Ogden Stiers, Harry Shearer, and Sherman Hemsley. Along with the hilarious new historical sketches, Freberg wrote the lyrics and music for an armload of new satiric songs for Vol. 2, arranged and conducted by the great Billy May, with an all-star studio band.
Freberg's fans cross over into all known demographic groups and defy being labeled. They come from all walks of life and cut through a wide political and social spectrum. Freberg fans include everyone from science-fiction icon Ray Bradbury (who wrote liner notes for the new release) to Penn Jillette of Penn & Teller to Steven Spielberg to former Los Angeles Mayor Tom Bradley (a Democrat) to California Governor Pete Wilson (a Republican).
Simultaneously with launching his record career in 1949, Freberg helped create, write, and also starred in the early TV hit show for the entire family, Time For Beany (Beany & Cecil), which garnered three Emmys, and claimed Dr. Albert Einstein as a fan.
In 1957 after several years of record hits, CBS asked him to replace Jack Benny on the CBS Radio Network, which made Freberg the last network radio comedian in America. When that show finally went off the air, Capitol released an album featuring the best moments, and it won a Grammy®.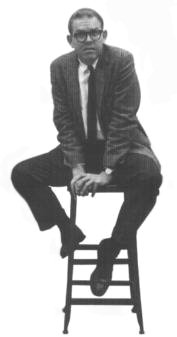 Freberg grew up in Pasadena, California, the son of a Baptist minister, and was a true child of radio. Growing up he was influenced by the humor of his radio heroes Jack Benny and Fred Allen, and by the use of sound and drama by the legendary radio dramatist Norman Corwin. In 1945, at the age of 18, he auditioned for Warner Bros. Cartoons, and three days later was standing at a Warner's mike next to the great Mel Blanc recording his first cartoon voice.
Over the next few years he would become the voice in dozens of Warner Bros. cartoons, working for directors like Tex Avery, Bob McKimson, Chuck Jones, and Friz Freling as characters like one of the two polite gophers in Goofy Gophers (Blanc was the other one), the little dog Chester who eggs on the bulldog Spike, Junior Bear in The Three Bears, and Pete Puma. (In 1997 Warner Bros. will release a new theatrical Pete Puma/Foghorn Leghorn cartoon from director Chuck Jones titled Pullet Surprise, with Freberg once again supplying the voice of Pete Puma.)
Freberg also played the part of The Beaver in Disney's Lady And The Tramp, and has continued to do cartoon voice-overs for shows like Garfield and Tiny Toons. He recently created the character of Boron for a series of WB animated shows called Steven Spielberg Presents Freakazoid. His career in the world of animation, both as voice-over actor and animation producer (a series of animated commercials he wrote and produced for Kaiser Aluminum Foil won the Venice Film Festival Grand Prix), culminated in 1994 when he received the Lifetime Achievement "Winsor McKay" award from the animation academy ASIFA.
About the time of his early work at Warner Bros. Cartoons, he broke into network radio as a young actor on such shows as The Jack Benny Program, The Phil Harris-Alice Faye Show, The Henry Morgan Show, The CBS Radio Workshop, and Suspense. In October 1995 he was inducted into the Radio Hall of Fame, where his heroes Jack Benny, Fred Allen, and Norman Corwin already reside.
Somewhere along the way he managed to also find time to change the face of advertising with his iconoclastic approach to radio and television commercials.
"He was a major contributor to advertising's creative revolution, with innovative campaigns for Chun King, Sunsweet Prunes, Jeno's Pizza, and others," said Advertising Age magazine recently, which previously dubbed him "The Father of the Funny Commercial."
Examples of his work now reside in several museums, including the Museum of Television and Radio in New York City and Beverly Hills, California, and the Museum of American History at the Smithsonian Institution in Washington D.C.
Freberg frequently lectures around the country at colleges as well as to some of America's most successful corporations (IBM, Westinghouse, the editorial board of The Encyclopedia Britannica, etc.) on a subject he once taught at the University of Southern California's Annenberg School of Communications, Freberg On Communications. He is the recipient of the University of Missouri School of Journalism's Honor Medal, a lifetime achievement award previously given to such communicators as Winston Churchill, Walter Cronkite, and David Brinkley.
He is heard daily on hundreds of radio stations throughout America with his two-minute satirical commentaries, Stan Freberg Here, which are also carried every day via satellite by Armed Forces Television and Radio Network to our troops in 132 countries.
He is also the host of the syndicated show When Radio Was, now heard on more than 350 stations.
Currently, Freberg is at work on his second book, following his first best-seller for Times Books/Random House, It Only Hurts When I Laugh. His first book is currently out of print, but may be ordered from Amazon.com.
In his hydra-headed careers as a record satirist, writer, director, actor, composer/lyricist, author, radio commentator, and advertising consultant, he has been called everything from "The Che Guevara of Advertising" by The New York Times to "a marketing genius" by Broadcasting magazine to "a National Treasure" by the Los Angeles Times. But a headline in The Washington Post said it best: "In The Beginning, There Was Freberg."
He is the President of Freberg Ltd. (located in Los Angeles), where he creates ad campaigns "for agencies or clients whose products interest me."
Among his many awards are 21 Clios (the Oscar of the ad business), 18 International Broadcasting Awards, the New York Art Directors Gold Medal, the Radio Advertising Bureau's Orson Welles Award, two Silver Lions at Cannes, the Venice Film Festival Grand Prix, a Grammy, and a star on Hollywood's Walk of Fame.
He lives in Los Angeles with his wife Donna, who is both his editor and his producer. She produced Stan Freberg Presents: The United States Of America, Vols. 1 & 2, and laughingly says she has been his producer "longer than I ever thought my patience would endure."
The Frebergs have two children, Donna Jean Ebsen, a writer and actress, and Donavan Freberg, a young actor with his own cult following thanks to his starring role in a series of Encyclopedia Britannica television commercials. Along with his career in acting Donavan is also studying to be a doctor of Oriental medicine. Both Donna Jean and Donavan are featured actors on Stan Freberg Presents: The United States Of America, Volume 2: The Middle Years.
Freberg is already writing Volume 3. Please stand by.